Hofstra law student teams swept all of the top awards at the 2011 Nassau Academy of Law Hon. Elaine Jackson Stack Moot Court XXVIII Competition held Wednesday, March 24.  Distinguished judges ruled that the Hofstra team of 2Ls Nicole Bayer, Hanieh Hoshiari and Rachel Vincent won first place over a previously undefeated Touro Law Center team.  Rachel Vincent also won the Best Oralist Award in the competition.  Additionally, Hofstra law student team of 2Ls Sheila Ballato, George DellaRata and Toby Latham won the Eugene S.R. Pagano Esq. Award for best written brief.
(Photo by Hector Herrera)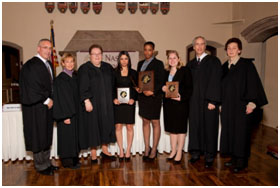 From left: NCBA President Marc Gann, Collins McDonald & Gann, Mineola; Hon. Ruth C. Balkin, Justice, Appellate Division, Second Department; A. Kathleen Tomlinson, Magistrate Judge; Hofstra law students Hanieh Hoshiari of Basking Ridge, New Jersey; Rachael Vincent of Jamaica, NY; Nicole Bayer of Selden, NY; Hon. Andrew Engle, Judge, District Court, Nassau and Dean of the Nassau Academy of Law; and Hon. Elaine Jackson Stack, NYS Supreme Court (ret).